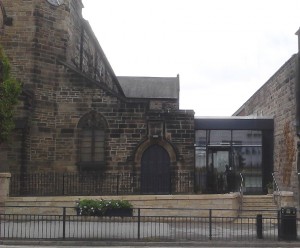 In 2006 the leadership of St Andrews began looking at ways the building could be improved for the benefit of both the regular worshiping community and also the wider community in Starbeck. Major considerations were for the building to be easily accessible to all people regardless of any disability; to provide for the comfort and needs of all visitors, and to create a warm, hospitable and welcoming meeting space, including a large and flexible worship area. The key addition to our premises is a new entrance off the high street and a new facility along side the main worship area for welcome, meetings and refreshments.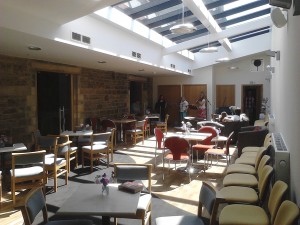 This work has now been completed as the photos show, with the new entrance and Welcome Area on the right hand side.
We still need to raise money to pay for this project; click the building fund value button to see the progress of the building fund and it's latest value.

The building project web site contains links to project documents, presentations, newsletters, audio talks and plans.
On Saturday 14th September we had a wonderful opening ceremony with Christine Stewart from Starbeck in Bloom unveiling the plaque, and Bishop James bringing us some words of encouragement. You can listen to their speeches using the audio players below, or if the audio player does not work in your browser use the blue link below each audio player (your computer must be equipped with sound!).