Flowers & Decoration Group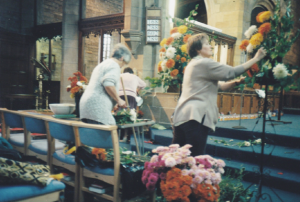 STOP PRESS  –  Interested in helping out with Flowers and Decorating the Church ???
 then join this well established group who are wanting more people to join them and share the load
Contact Beryl Coppinger via the Office on 01423-889162 or admin@andysonline.org
 There are ten of us on the team and we take turns, in twos, on a weekly basis. It can take up to a couple of hours or more to do all the arrangements. Part of our work is to choose the flowers and organise the greenery collection. We rely completely on the donations from the congregation.
As flowers become increasingly more expensive our ladies are becoming more and more adventurous with greenery and new designs. Most pedestals will cost £10 and above for an arrangement, and that is without the mechanics of oasis, tape and wires, but our girls get by on a shoestring – they really are amazing.
This is a ministry of love; people come to us wanting a living memory of a loved one placed in church for a special day – be it a birthday or anniversary, these memories are a precious part of all of us – consider the lilies..
At times such as Easter and Christmas, we ask you all to help with these festivals, as they are particularly expensive (and time consuming). (the ladies can be there most of the day) We are very grateful for all the monetary donations, however small, and the extra help that makes such a difference. We have lots of fun and sharing on these special occasions and the end results is seeing our church in full blossom and displaying Gods love.
We also manage to squeeze the occasional Wedding into our busy calendar, and yet again these faithful souls come and give of their time and of themselves, and yes have some fun. Thank you to all the ladies who give of their free time and their expertise to become involved in this ministry, and for the love they pour out into their arrangements.
 One request, please take time to look at the flowers, and if you have time give them a sip of water (watering can may be found in the Office), but most of all just occasionally
STOP – LOOK – REMEMBER WITH PRAYER.
One of your brothers or sisters has placed those flowers there as a memory of their loved one, do pray for them both. If you wish to take an opportunity to remember someone in flowers, please take a look at the list in the Narthex at the back of Church and sign up – we will gladly arrange the flowers for you.
We would also gladly welcome any new offers of help and welcome new team members. You do not have to be good at arranging flowers; few of us were when we started. Just like / enjoy flowers and we will help the rest of the way.
Whatever your age – it does not matter and gentlemen you are also most welcome – just a couple of hours a month is all it takes. 
God Bless – Beryl Coppinger, Team Leader