St Andrew's is an evangelical Anglican church in Harrogate with links to the New Wine movement and styles of worship reflect this.
You will find that we are diverse and inclusive, that we readily welcome new people into our midst and that we take Jesus' words about unity seriously.
While there is no pressure at St Andrew's to be anything other than who you are, we do believe that it is important that people are challenged to grow in their faith and their walk with God. We encourage people, when they are ready, to take a full and active part in church life.
St Andrew's is a 'church in the community' and many regular worshippers are local people. However, we also have a significant proportion of people from outside the parish, who are attracted by its forms of worship and its vision.
We are blessed with an attractive, versatile and uplifting worship space, which we use creatively. Three years ago, we completed a major extension which includes our new entrance and welcome centre.
Welcome to St Andrew's Church, Starbeck
————————————————————————————————————–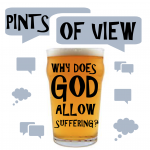 Come to an evening of beer tasting and question asking at
St Andrew's Welcome Centre, Starbeck.
Saturday 1 April from 7.30 pm
Drink beer, eat snacks and ask a panel of Christians those questions you've always wanted to ask.
Big questions, tricky questions, silly questions. Anything!
You can write a question down or ask it out loud.
It'll be fun, profound and everything in-between!
FREE ENTRY, FREE TASTING donations are welcome on the night.
Click here to Register for this event