Starbeck, Harrogate | Sundays 9am and 10:45am in the building | 10:45am service is also streamed live on YouTube
New Here?
Listen Again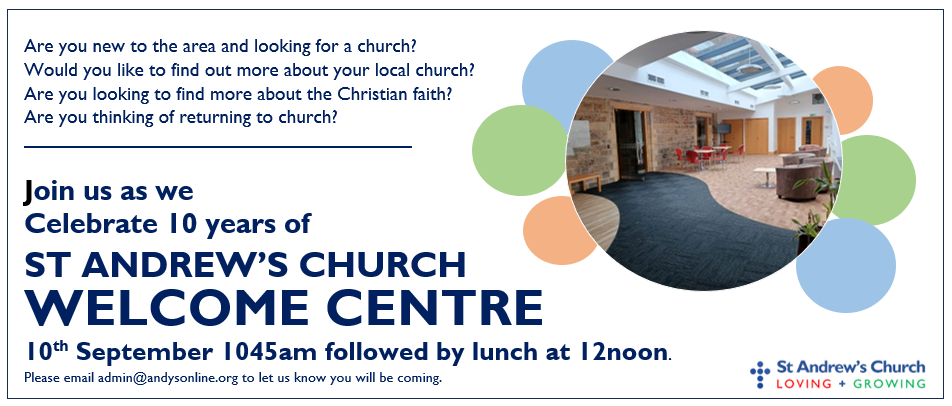 On the 10th September we are celebrating 10 years of the Welcome Centre.  You are invited to join us for a shared meal at 12noon.
We would be delighted if you could also join us for our Church service at 1045.
The food will be provided by the church family. So we have an idea of numbers RSVP to admin@andysonline.org by 30th August. (Please include any dietary requirements.)
WHO we arE
St Andrew's Starbeck is a welcoming and informal church that aims to love God and love others as we grow in faith.
While there is no pressure at St Andrew's to be anything other than who you are, we do believe that it is important that people are challenged to grow in their faith and their walk with God. We encourage people, when they are ready, to take a full and active part in church life.
St Andrew's is a 'church in the community' and many regular worshippers are local people. However, we also have a significant proportion of people from outside the parish, who are attracted by its forms of worship and its vision.
We are blessed with an attractive, versatile and uplifting worship space, which we use creatively. In 2013, we completed a major extension which includes our new entrance and welcome centre.
If you're new to area, looking for a church or still exploring your faith, please get in touch with us. We can't wait to meet you.
God bless you,
Rev. Phil Carman and the St Andrew's family 
Sunday Services
We believe our worship services are inclusive and accessible.
People are free to be themselves.  We value our traditions but are open to fresh ways to express and share our faith.
About Us
You will find that we are diverse and inclusive, that we readily welcome new people into our midst and that we take Jesus' words about unity seriously. We are an evangelical Anglican church in Harrogate with links to the New Wine movement and our styles of worship reflect this.